Synopsis
spinoff of The Fate of the Furious, focusing on Johnson's US Diplomatic Security Agent Luke Hobbs forming an unlikely alliance with Statham's Deckard Shaw.
David Leitch is one of the filmmakers who managed to skyrocket John Wick's film and after that he didn't stop and was immediately given the trust to direct Oscar-winning artist Charlize Theron in the film Atomic Blonde. Not long ago he was later involved in Deadpool 2 which was released last weekend.
He will focus the story on these two characters with a little backstory and the relationship between of them. How the world of Shaw intelligence interacts with the norms of law enforcement that exist in Hobbs who will lead to conflict, and cooperation between the two.
Spinoff from the Fast & The Furious franchise will be available on the 26th of July 2019. Chris Morgan, who has worked on this franchise script since The Fast and the Furious: Toyko Drift will be the script writer. With the launch of the spinoff, Universal hopes to further develop and explore various elements of Fast & Furious.
As we know, previously Universal Pictures has announced changes to the 9th Fast & Furious franchise showtimes. They will release this film on April 10, 2020. Originally Fast & Furious 9 will be released on April 19, 2019.
The Rock made his debut in the Fast & Furious franchise when it appeared at Fast Five. Since then he has repeated his role as Hobbs in Fast & Furious 6, Furious 7 and The Fate of the Furious. Jason Statham debuted in this franchise in the post-credit scene for Fast & Furious 6, where it was revealed that he was the one who killed Han (Sung Kang) at The Fast and Furious: Tokyo Drift. He then appeared prominently in Furious 7 and The Fate of the Furious.
It seems that the history of the unique Shaw family will also be raised in this spinoff, considering that they also included Deckard and Owen Shaw's younger siblings, Hattie Shaw (Vanessa Kirby) who were secret agents of MI-5 from England. While the mother Magdelene (Helen Mirren) might also be appearing on this project. While the villain figure in the film is played by Idris Elba who will play a character named "Brixton" and he is one of the criminals who has a reputation of "undefeated" or "undefeated."
Meanwhile, Eiza Gonzales will portray a figure named Madam M who is said to be a tough woman who is the leader of a "female force" / or certain organization. But this character's affinity is not explained, he may be a criminal kingpin who works with a villain figure played by Idris Elba.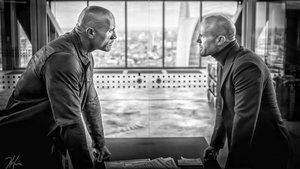 Original title
Hobbs & Shaw